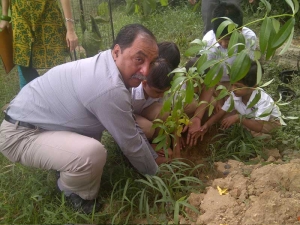 The JAAI Environment drive is simple yet effective locally as well as for our country. JAAI actively participates in the environment day organized by the Jesuit institution. Related skits are performed by students. Experts are invited to highlight the importance of the protecting and enhancing our environment starting locally. In the spirit of think local act global saplings are planted on the campus. students,alumni and staff make efforts to get as many plants or trees and plant them on campus and also share such saplings with other Jesuit institutes.
   
The Environment drive has taken the form of Community Composting for disposal Dry and Wet waste in the Jesuit Bombay Province http://www.jaaiwest.in/community-composting

The Jesuit institution benefits by the green cover, the students get fresh air, green pollution free environment, learn about water saving, campus cleaning, carry this basic important knowledge back home and contribute in their households. Alumni members also get to know how they can enrich their societies with green cover, water management plans, cleanliness drives etc. It also serves as a platform for a unified student-staff-management-parent-alumni bonding session along with academic knowledge about the global warming causes and remedies, water management, greenhouse effects, and basic nature.