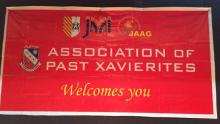 The Association of Past Xavierites ( APX ) hosted the annual musical and dinner program yesterday 1 April. The performers were alumnus as well and the revellers included the management, staff, alumnus along with family members.
The evening started off at 6.30 pm and after the musical rendering, dinner was served. A large number of the Xavier's parivar enjoyed the proceedings, also present were 5 retired teachers , all over 88 years young and they were honoured. The alumni/ae always invites retired teachers over 80 along with all current staff, teaching, non teaching and ground staff included.
This is a great bonding platform for all stakeholders or collaborators which include the management, staff and alumnus, also students, parents and benefactors at relevant occasions.