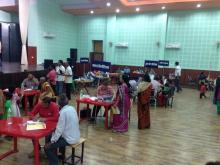 DORANDA OLD XAVERIANS (DOX)the Alumni Association of St Xavier's School, Doranda, Ranchi organized the Free Mega Health Check-up Camp at the School premises on Sunday, 07.09.2014 from 9.00 am to 4.00 pm.
The Camp is an Annual Event of DOX, which targets services to the Outreach Students of the School (Approximately 600 children from 5 locations, including the Main Campus of the School), their parents, family members and neighbours. The objective of the camp is to create awareness on Sanitation, Cleanliness and Health.
Certain clearly defined objectives need to be achieved, including De-worming of all footfalls, Oral & Dental Hygiene of all footfalls, Anemia Check-up of all females above 12 years of age and treatment thereof, Identification of Mal-Nourished Children, Adolescents and Adults, Identification of need for Vision Correction and Night Blindness, Chronic Reversible Illnesses, etc.