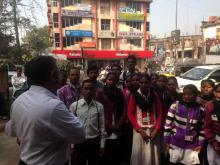 Nineteen students from TRTC (Tribal Research Training Centre, Chaibasa) on Saturday 8th of February. These students are from remote villages undergoing Hospitality training session at TRTC. The students were given exposure to the working inside Boulevard Hotel (Courtesy Rony).
They were divided into 3 groups and were taken around various departments of Boulevard Hotel. It was a full day session.
As discussed with Fr. Ranjit Kindu of TRTC Chaibasa, we will have students from TRTC who are undergoing training for Mechanic & Driver. We will provide them hands on experience at the Service Centre of our Committee Member Mr. Rajiv Singh.  This program is scheduled for mid March.
 
Basic hands on experience will also be given at the Service Centre to the students who are enrolled for Computer hardware maintenance.