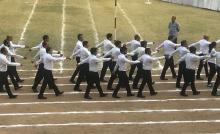 The St Xavier's High School Loyola Hall Ahmedabad hosted its 83rd Sports Day on the school grounds on 10 Dec 2017.
APX (Association of Past Xavierites) members participated in the march past along with the school students. APX members also participated in a cycle race and 100 mts sprint .
New solar panels were installed and inaugurated on the school campus (courtesy an alumnus) on the occasion .
Students , staff , peons , alumnus , parents , benefactors and guests enjoyed the morning and this also was a binding and bonding exercise between all collaborators and stake holders.