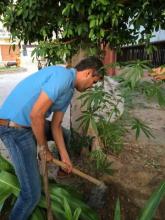 The Association of Past Xavierites ( APX, the alumni association of St.Xavier's High School Loyola Hall Ahmedabad ) carried out its Tree Plantation drive on the campus.
Many APX members participated in this program, encouraged by the Chairman and Principal Fr.Durai SJ.
Many trees were planted, many recollected their school days and spoke about their experiences as well as the importance of the trees. Refreshments were served after the trees were planted.
This is a JAAI initiative, along with the Blood Donation Drive.
This is also a bonding activity between the management, ground staff, alumni and young students playing on the ground.