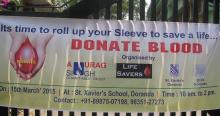 The Alumni of St Xavier's School Doranda (DOX) organized a Blood Donation Camp at the School Premises in collaboration with the Blood Bank of Guru Nanak Hospital & Research Centre and Anurag Singh Charitable Trust on Sunday, 15th March 2015.
As many as 80 donors enrolled for donating Blood, but owing to paucity of the storage capacity with the Blood Bank, collection was stopped after obtaining 39 Units.
An amazing commitment was shown by Rev. Fr. Ajit Kumar Xess SJ, Principal, St. Xavier's School, Doranda, the Vice Principal Rev. Fr. Sanjay Kerketta SJ, Sister Jyoti, Mrs. Anita Singh, the management of Anurag Singh Charitable Trust , Sisters and Students of Nirmala College and the very own DOX Members and their friends.
JAAI-CZ President Er. Shivendra Mohan Sharma, JAAI-CZ Secretary Vishal Jain and JAAI Vice President Dr. Devendra Singh were also present throughout the half-day program.