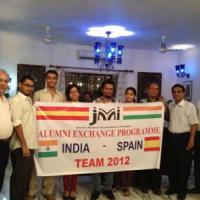 St. Ignatius of Loyola, born in Spain in 1491, as the principal founder and first Superior General along with St. Francis Xavier as co-founder, formed the Society of Jesus, a Christian religious order active in the field of education throughout the world. St. Francis Xavier in his official role of Apostolic Nuncio of the Roman Catholic Church landed in Goa in 1542. The Jesuit idea of spreading education has now withstood 5 centuries of Indian historical turmoil, cultural diversity, religious upheavals and transcended   boundaries. With devoted service, Jesuit priests spread knowledge to enlighten students for achieving self-sufficiency and self-realization.
 The Alumni under the umbrella of the World Union of Jesuit Alumni (WUJA) has, over the past 50 years, responded to the clarion call given by the former Superior General Rev Fr Aruppe "to be men and women for others."
With the spirit of fellowship and net-working and with the advent of globalization, the Alumni movement received a great boost at the WUJA's World Congress at Sydney by its taking two historic decisions  – (i) in adopting "Twinning" as a prime goal and (ii) by deciding to host the 2003 World Congress at Kolkata, the City of Joy. This led to the formation of the Federation of Jesuit Alumni Associations of India (JAAI) that hosted Summit of Joy, the World Congress in 2003. Mr. A. P. J. Abdul Kalam, President of India, himself a Jesuit Alumnus of Loyola College inaugurated the Summit with delegates attending from all over the world including a large contingent from Spain.
As a consequence, the Spanish Federation and the Indian Federation (JAAI) have dreamed about "Twinning" through an Alumni Exchange Programme (AEP).  Through the efforts of Mr. Goncal Fabergas, President of the Spanish Federation and JAAI, the pilot group of Spanish Alumni comprising of 10 members came to Kolkata in 2007.
As a return visit the first Indian Alumni group from JAAI will be visiting Madrid, Zaragoza and Barcelona in Spain from 18th to 27th September 2008 for sharing thoughts and ideas with Spanish Alumni for social service and for bringing back best practices to our country as well as for cultural exchange.
The objectives of the Alumni Exchange program with Spain are as follows:
To encourage international understanding and give a fillip to the Jesuit Alumni movement.
As the basis of Jesuit Education is to create "men and women for others" – the program aims to provide opportunities for action.
The alumni will become sensitive to and assist comparative social & human problems in Spain and India.
The alumni will act as cultural ambassadors of their countries.
To strengthen bonds between Alumni of different countries and to expand horizons.
To boost interest of younger members in the activities of their Alumni Associations.
Motto of Alumni Exchange Program: "Twinning for making Men & Women for Others"