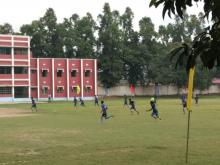 The Regional football tournament was held on 26th and 27th July on the football ground of St. Xavier's School, Sahibganj.
The Senior category consisted of four teams from Dhanbad, Jamshedpur, Ranchi and Bhagalpur Zones and Junior teams consisted of five teams from Ranchi, Dhanbad, Jamshedpur, Deoghar and Bhagalpur Zones.
The teams were divided into two pools for each category and senior team had knock out system and junior league system. The opening ceremony began at 10.00 am on 26th July and Sr. Amrita, the Zonal coordinator of Bhagalpur was the chief guest and Dr. Ranjit was the chief guest for the closing ceremony on 27th July.