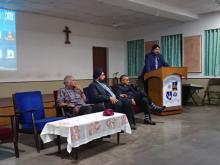 Your President was invited to, and attended the Annual Assembly of Alumni of Loyola School, Jamshedpur, Jesuit Central Zone on Sunday, 17th December 2017 as the Guest of Honour.
The meeting was presided by Rev. Fr. Pius Fernandez SJ, the President of the Association.
Secretary Pratim Banerjee presented the activity report.
JAAI Past President Ronald D'Costa presented a vivid report on the WUJA Congress held at Cleveland, USA in June-July 2017.
Another Global Networking initiative of JAAI and Loyola School Alumni Association has resulted in an Afghan Lady Doctor, Dr. TAHERA coming to Jamshedpur for 3 months for hands-on practice on a variety of GP cases. She was present and participate in the Assembly. She shall later come to Ranchi too, to specialize in Psychiatric Medicine. This shall be arranged and facilitated by Doranda Old Xaverians, Ranchi.