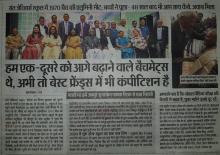 1970 Batch DOX Alumni Visit School after 48 Years : Spend a Day w Ten Alumni of the 1970 Batch of St. Xavier's School, Doranda, Ranchi gathered with their wives at their Alma after almost half a century (48 years). They travelled all the way from England, USA, Canada, Delhi and Pune to re-live their childhood.
A special meeting with present teachers, past teachers (who had taught them) and the present students of SXD was organized at the School Auditorium. 
Replying to a question from the audience, "what kept you all together and networked for all these years?", they happily recalled and replied : "We were taught to support each-other and to pull-along the weaklings. We did not compete for positions. We progressed on merit and the best one would lead in academics. But sure, we always carried each-other along. Today, we find cut-throat competition even amongst the best-friends".