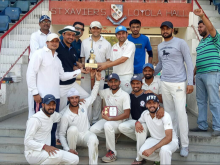 APX played their annual cricket match versus the alumni of HL college, a premier college in Ahmedabad, this being the 10 th match, each year this match is an important event in the calendars of both associations , revelry , participation and networking along with fun and food adds to the flavour.
APX also is supporting a 2 night program hosted on HL college grounds, yesterday we had a musical evening and today is a performance by stand up comedians . Along with the efforts in the social and education areas, APX participates in sports and entertainment programs and creates a base for making new members, establishing relations with other associations and networking .
The Association of Past Xavierites ( APX ) has had a busy weekend and is constantly supporting its alma St Xavier's Loyola Hall.