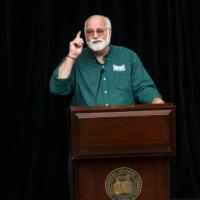 Yesterday was a hectic day for WUJA delegates. There were two common talks for all. The first one was by Fr. Gregory J Boyle SJ. He gave an inspiring talk on the topic "Save the world or Savour it? Being reached by the Widow, Orphan and Stranger" It was a talk with lots of humour, serious content and a challenge from his personal experience of working with the marginalised for the last 25 years. His talk moved all the delegate, emotionally we all felt the impact of the talk....tears rolling out of our eyes...thanking the Lord for the marvels he does through the Jesuits!
Fr. Boyle challenged us to have a new way of looking at God. God who is with people,  with the peripheral, at the frontiers, with the marginalised. "we need a better God than the one we have today!", he says. "We must not look at an 'exalted God'...but must look at a God who is 'Exhausted'!"  What we need to understand today is that God is with us in our relationships. As St. Mother Teresa says, "the problem is this...that we forget that we belong to each other". We must stand up with the poor, the marginalised, the victims, the voiceless, and the discriminated.  As Jon Sobrio says, "there is no salvation outside of the poor!"
Kinship is the need of the hour. When we go to the margins we change. He gave lots of personal experiences that touched all of us and made us to think, discern and act. There is ultimately no 'Other' but 'us'. 
Like Jesus we must stand at the right place and look at all. Then we will have the same values of Jesus today:
INCLUSION instead of Exclusion...
NON VIOLENCE instead of Violence  
COMPASSION (an unconditional loving kindness) instead of Competition
ACCEPTANCE of all instead of Rejection
This is where we need a new concept of God...especially in our world today. He urged the WUJA to work on these four areas with vigour with humility and love. Indeed it was a moving presentation, a great example of a great Jesuit.
After the talk again we had different topics dealt at different halls for our choice. All focused on Global Networking at different levels. Higher education to Primary education to JRS to Media.
In the afternoon Fr. James Martin SJ talked us through webcam.  James is a well-known Jesuit, who is the editor of America Magazine. He dealt the topic Jesus the Bridge Builder. He brought out a lots of incidents from his experiences from Jesus' life to show us that He was a bridge builder. He was a bridge between human beings and God, human and Divinity, sinner and the Saint. He was always out at the margins with an open heart. He listens, meets, and loves the poor, the marginalised, the sinners and the discriminated.  Jesus was humble, detached, and full of love. So we need to be like him, free, detached, humble and loving. He urged us to be open and take up issues that unite and be inclusive. We are on a journey here, let us walk together. Remember "if you want to go fast, go alone. If you want to go far,  go together!" Let WUJA and the Jesuit world go together, far. It was another moving session we had. Very inspiring, very much Jesuitical and Ignatian.
In the afternoon, again we had a number of sessions at various places for our choice. All the talks were inspiring and impressive. 
One was by Fr. Jose Alberto Mesa SJ, the international Secretary of education. His topic was "THE FUTURE OF JESUIT EDUCATION; CURRENT DEVELOPMENTS AND CHALLENGES". Since all of us are associated with schools or education at various levels I shall give here, a summary of the challenges of Education internationally.
Mesa gave a statistics of the Jesuit school network across the world. He stressed that Our Mission today is a Ministry of Reconciliation with God -Faith, with Humanity-Justice, With Creation –caring for the environment. The quote, "A mind that is stretched by a new experience can never go back to its old dimensions" is a reminder for the importance of education. Adolfo Nicholas, the former General of the Society stressed, "Our tradition is one of depth of thought and imagination. We aim to help students to become whole persons of solidarity. Ignatian tradition is a creative process to recreate reality; it is not fantasy (far from reality) because imagination grasps reality. Jesuit education must change us and our students.
Fr. Sosa stresses on the AUDACITY OF THE IMPOSSIBLE: the Gospel, a humanity reconciled in justice, in a common home and as a family of the same God. We must be Collaborators in the Mission of Christ: we all (lay and Jesuits) are called to work together in service of the same mission.
Mesa brought forth 6 challenges the Jesuit education faces today.
GLOBAL EDUCATION: "THE WORLD IS OUR HOME"
We need to educate our students, faculty, parents, alumni (ae) and ourselves to be part of the global network with strong local and regional roots. (Colloquium, SIPEI, Jesedu Rio, and the Hiroshima meetings aim at this) (www.educatemagis.org) 
TECHNOLOGY AS NEW LEARNING PARADIGM
Technology is changing the way we learn and the way we teach. New models of education: online, blended.... We make technology serve our mission in creative ways.
AT THE SERVICE OF WISDOM AND JOY.
We live in a world flooded with knowledge and information....but sad, emotive, exhausted and unhappy. Consumerism is growing, we want our students to go deeper... to the depths of wisdom and joy....Cura personalis IS OUR HALL MARK. Practice compassion and service, especially to the marginalised.
THE CALLENGE OF THE ENVIRONMENT
We need to rediscover a new level of communion with earth and the universe. What are we doing in our schools to feel passionate about caring for the environment? (www.healingearth.com) 
ACADEMIC EXCELLENCE AT THE SERVICE OF HUMAN EXCELLENCE
We challenge our students to academic excellence. We strive for human excellence for men and women to be of Competent, of Conscience, of Compassion, of Commitment. 
SPIRITUALITY THAT TRANSFORMS, CHALLENGES, BUILDS
This is our Soul, our Secret, our Tradition. A Jesuit school must promote Ignatian Spirituality. There was in Ignatian way of reflection, examen and recollection the days event and relishing the moments of 'touching experiences'. In the evening most of the delegate went to see the famous Base Ball game and other programmes organised by WUJA organising committee. Over all the day spent was worth and inspiring, thought provoking and challenging. 
---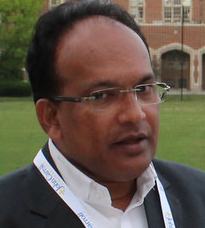 Contributed by Sunny Jacob SJ
Jesuit Advisor JAAI
Secretary JEA SA